Are you looking for The Best Vegetarian Banh Mi in Hanoi? Congratulation! Hanoi is home of Vietnam's most excellent and genuine Banh mi sandwiches. Below is the most famous place for the best Vegetarian banh mi in Hanoi.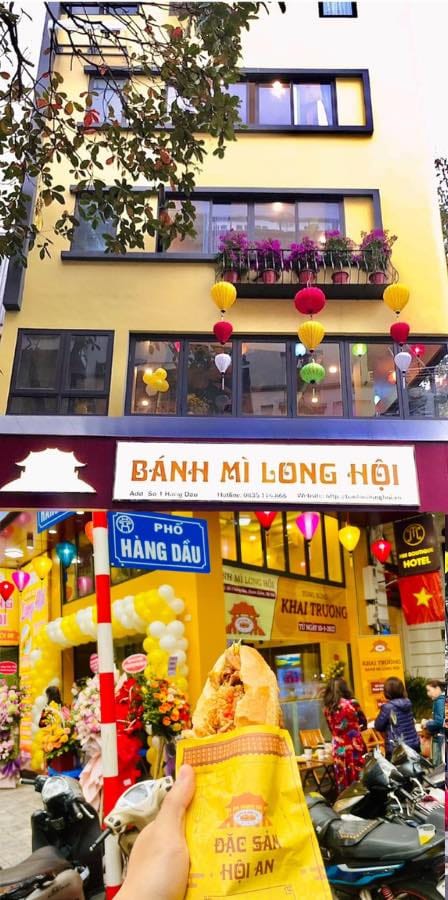 Banh Mi Long Hoi – No.1  Hang Dau Street
Searching on the internet, you will see full of comments about this legendary meaty sandwich Banh mi Viet Nam and where the best versions of it can be found. Long Hoi banh mi is reputed to be one of the best producers of this famous Vietnamese Banh mi, especially Vegetarian version.  You know! If you want to find the best Vegetarian Banh Mi in Vietnam, you must go there !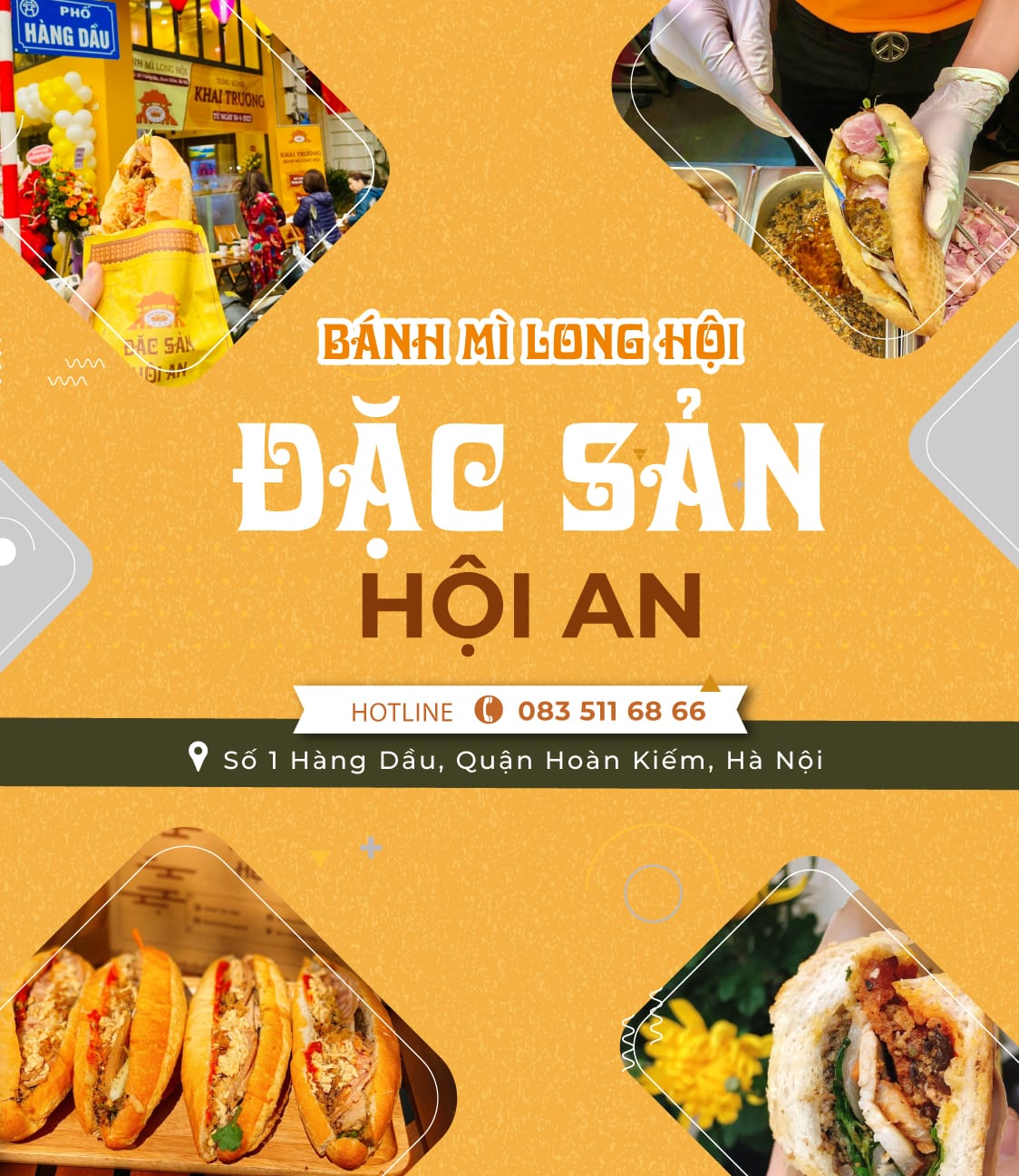 Vegetarian Banh Mi
What is the value that creates the success of Long Hoi Vegetarian banh mi?
The core values of Banh mi Long Hoi is "Prestige – Safety – Quality". Banh mi Long Hoi will always make constant efforts to ensure those 3 core values ​​all the time.
PRESTIGE
Banh mi Long Hoi always puts "PRESTIGE" on the top and considers this a core value that cannot be changed. We understand that, like any business, in order to have a firm foothold in the market, that business must definitely ensure its prestige: Prestige with employees, prestige with customers, prestige with partners.
SAFETY
All input materials must be strictly controlled on food hygiene and health safety, 100% fresh ingredients, ensuring VietGAP standards, no harmful chemicals are used in the processing process. From there, produce food and beverage products that ensure health and safety for all customers.
QUALITY
The products of Banh mi Long Hoi are made from clean ingredients and ensure food hygiene and health safety along with the typical style of Hoi An ancient town. All are blended together and bring the most unique, most special flavor.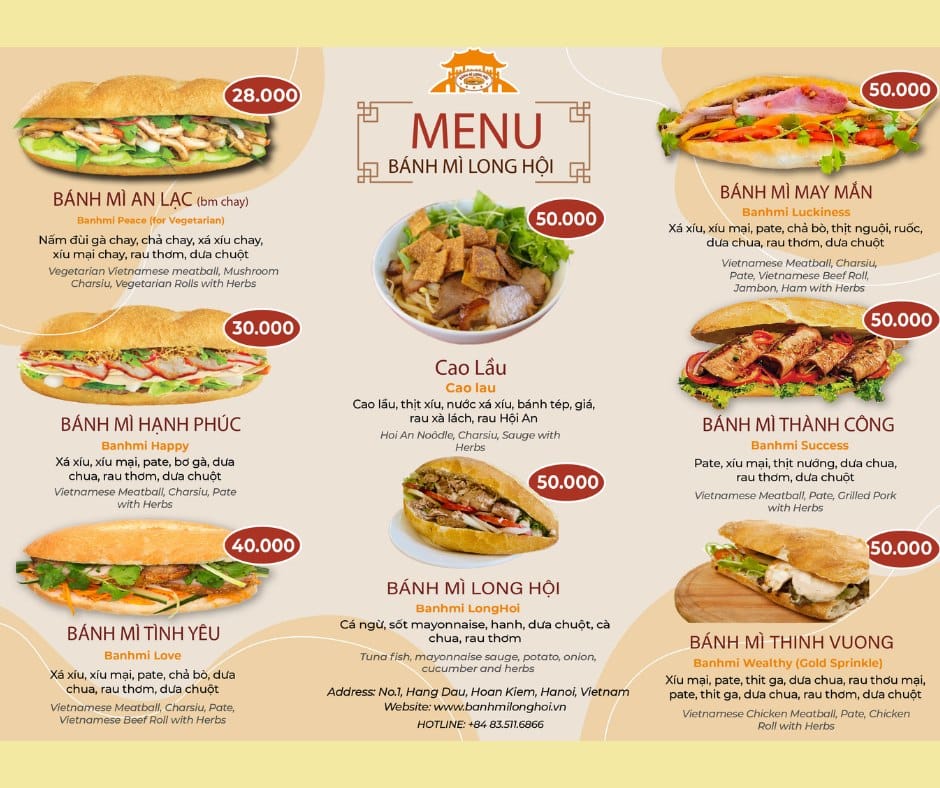 Menu Long Hoi Banh Mi
With a spacious 5-storey space, including 3 very airy reception floors, decorated in bold Hoi An ancient town style with yellow painted walls, lanterns, confetti, wooden tables and many chill corners for diners to enjoy "virtual living" lake…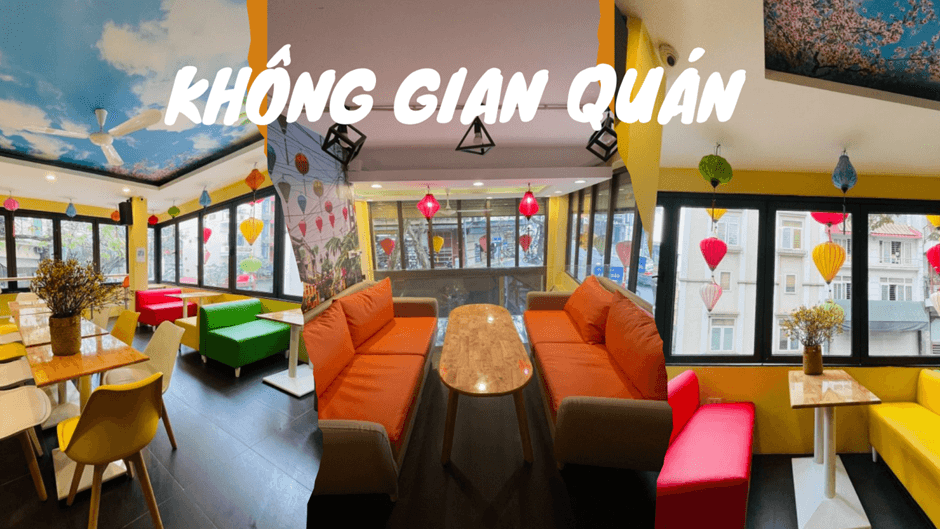 Banh mi Long Hoi – Restaurant space
If you love Hoi An cuisine, want to enjoy crispy vegetarian banh mi, mixed with the aroma of tofu and mushroom,… with a little added herbs to relieve boredom right there. In Hanoi, Long Hoi Banh Mi is definitely a place not to be missed
Let's go to Banh mi Long Hoi at No. 1 Hang Dau Street, Hoan Kiem, Hanoi to enjoy these special dishes right away.
Do you want to order? Please contact hotline 083 511 68 66 for further support and delivery.